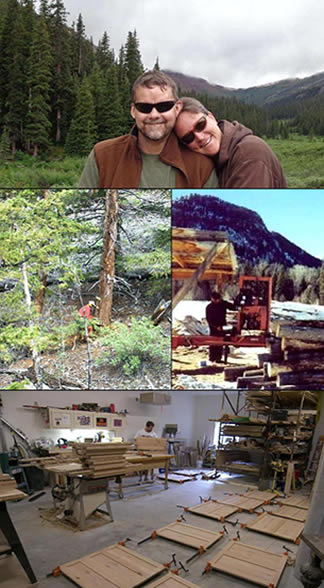 Owners Bill and Beth Wyman have spent our youth, made our home and family, developed our business and passion for woodworking in the high mountains from the West Elks to the San Juans.
We both graduated from Gunnison High School, Bill commuting from Lake City for school, Beth a local Gunny girl.
In Lake City for 17+ years, Wyman Woodworks built hundreds of pieces of furniture and cabinets, two very special custom homes, and plenty of less glamorous but very interesting jobs including the historical preservation of the old mining town of Carson.
We have moved down the valley to Gunnison in the last 9 years and run our fully equipped modern woodworking shop here. From design to done, we're ready to produce all of your home's needs, beautifully.
Our experience starts where the tree starts, in the forest. We've logged timber for homes and lumber including logging close to the tree line in the high San Juans. We've put hundreds upon hundreds of hours on our sawmill to produce everything from D-sided log homes and timber frame homes to lumber for cabinets.   Few people know trees and lumber as well as Bill does and that knowledge shows up in our cabinetry and furniture.
You will always know that your needs are being met by the owners themselves, as we are a shop of 2.
I (Beth) am in charge of customer service and you will find my expertise in design and construction well up to the task of ensuring a great concept that is executed perfectly.
Bill manages the shop and is no less than a magician in taking a stack of rough sawn 4/4 lumber and turning it into a beautiful finished product.
We spend our free time among the trees as well.  Whether hiking, on the river, or skis, or camping, we enjoy trees when they are alive even more than when they have died.