Cabinetry Portfolio
Our cabinetry portfolio has a sampling of our previous projects and construction details. We have had the chance to work with designers and homeowners to create really unique, personalized projects. We have a great reputation with our contractors for our excellent design execution and superior craftsmanship. The perfectly measured, furniture-quality boxes' ease of installation keeps our contractors loyal and happy. When you've browsed through these past projects, call us to see what we can do for your home.  We start with a basic design that anyone can afford and take it as far as the clients desire.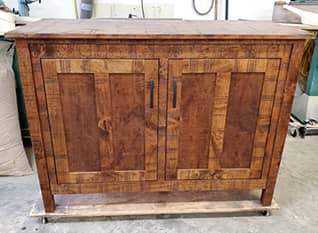 Furniture Portfolio
We make limited, one of a kind furniture.  Rustic Walnut with turquoise inlay dining table and benches, hickory with carved stars, distressed alder and Douglas fir, big blue bunk beds, stick work desks, and bookcases are just some of our most recent creations.   We have rare woods and creative imaginations.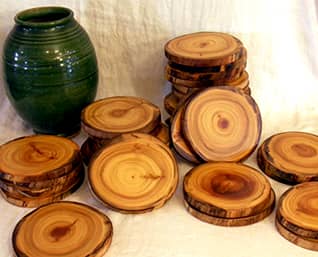 Tree Slices
Browse through our vast selection of tree slices in our Etsy Store.  They are incredibly beautiful and useful.  They warm up a house with their natural beauty and make great gifts for all sorts of occasions.  Made from local trees like Standing Dead Aspen, Douglas Fir, Western Juniper, Cottonwood, and Spruce – no two are alike.  The grain patterns on the slices have to be seen to be believed.  All our slices are finished with the same processes and finishes that our cabinets and furniture get.  Placemats, wall art, trivets, plant stands, coasters, serving plates, and centerpieces are just some of the great uses for these little gems.